New from Lalegno and in stock in the UK. Introducing Brunello & Chianti.
Brunello
BRUNELLO is one of the newest gems from the Lalegno ROVERE collection. Earlier this year, this wooden floor was bestowed with great success during Domotex, Europe's flooring mecca. Pure logic, because, with its ROVERE flooring, Lalegno wants to prove to young home owners, builders and renovators that an affordable floor in unique oak is a sustainable choice for them.
The BRUNELLO is a three-layer engineered floor, composed of a support (two layers of poplar wood) and a top layer of 3mm in European oak. All layers are glued crosswise under high pressure. This ingenious construction ensures that the wood has an excellent balance and can even be used with the underfloor heating.
We use European oak with a natural look. The oak is specially selected for its beautifully finished knots and distinctive wood drawing. The selected oak wood then undergoes various beauty treatments. For example, the oak is smoked to give it a deep-warm colour, and brushed for a more weathered structure.
The result after a professional staining process and after finishing the planks with a wood oil is very special. BRUNELLO floorboards bring the sun into your home thanks to their cheerful orange-brown glow and give your interior a light and summery feel. Irresistibly beautiful!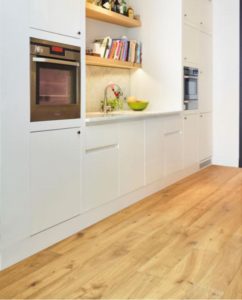 Chianti
Similar to the Brunello & launched at the same time, the cousin of Chianti undergoes the same smoking process to give the floor a warm summer feel, using the distinctive european oak veneers. It is finished with a white oil and then whitewashed to give it a light finish to the grain pattern.
A softer alternative to Brunello, Chianti - the lighter grain would make it a good option to complement lighter coloured furnishings.